Easily one of the most positive people we've met, we're proud to have Zinnia on the TRILLVO 2nd Annual Women Strong Charity Show line-up! From her passionate personality to her love for the arts, it's so obvious to see why we can't wait for her set and why we want you to get to know her as well.
Zinnia, a.k.a Brooke O'Donnell, hails from Denton, TX and brings a new, spicy flavor to the music we listen to. However, why not let the woman herself tell you who she is? It's hard to describe just who Zinnia is and the way she conducts herself, so we asked her two questions and let her answer with as much detail as she would like. After being asked when she first discovered her love for DJing, Zinnia had this to say:
"I have always admired the idea of being a "disk jockey" because my mom raised me on artists like RJD2 & Nightmares on Wax, but growing up I can't lie, I never saw myself being behind the decks performing my music.
(Fun Fact: Until a few months ago, I had the worst stage fright…)
I began to learn the ropes of audio engineering at the age of 15 & eventually fell in love with the production process of EDM. I took a year off of school after I graduated HS & to think about what path I was going to take & I chose Community College down in San Marcos, TX.
When I dropped out of college (mind you, it only took me 5 weeks to realize it wasn't for me), I decided to give my entirety to production. After finding likeminded creators, I discovered how much the stuff I was trying to produce coincided with the idea of DJing live music. So, at the age of 19 I bought my first Traktor S2 & since then it's been effortless to find the flow in spinning what I love.
I think a lot of artists & DJ's take for granted the platform we have & forget to find the root of what it is all about. To me, it's always been perceived as THE most powerful platform on this planet. The fact that ONE human has the ability to bring individuals together (whether it be 20 people or 100,000 people) from all sorts of different backgrounds, different political/ religious beliefs, divided moralistic derivatives, & so forth, & get all of these people to shut the fuck up about the down right madness occurring in the world & just jam out to the same wave/ sounds of music at the same time in unison & harmony … THAT is what brings my soul to its sense of fulfillment when stepping behind that dj booth & playing in front of those people who all showed up for the same reason: love for the music.
I booked my first event in December of 2017 & at first I only booked 4 events within the first 6 months of debuting "Zinnia" as a DJ. In August of 2018, I was blessed with finding a manager (shoutout to Syd) who never doubted my potential/lacked faith in my visions & since she discovered me at an underground event in Austin, TX, our momentum in collaborating has been catching unfathomable speeds.
Since she found me, she's helped me book the shows that have helped me find my confidence & love for performing.
From August of 2018 to now (Feb/Mar 2019) I have played in Dallas, Austin, Houston, San Antonio, & I have landed my first headlining show/event, booked my first summer festival, locked in my first SXSW showcases (actually as of now I have four bookings..holy shit this is still crazy to me!!!), I have been local support for artists such as PhaseOne, Yookie, Slimez, Havoc Roth, Blaize, KawtNKandy, Mystic Grizzly, Pixel Terror, Hi I'm Ghost, Hairitage, & so on…(holy shit I didn't realize how many epic artists I've played alongside until I just made that list wowowow!).
ALAS, to answer the initial question, if I had to give an exact moment that I fell in love with being the one who is the source of music playing/DJing, it was the moment I had the courage to play an entirely original track in front of an audience and then saw the way it made them move…TO THE SONG THAT I MADE…like NOTHING compares to that righteousness…"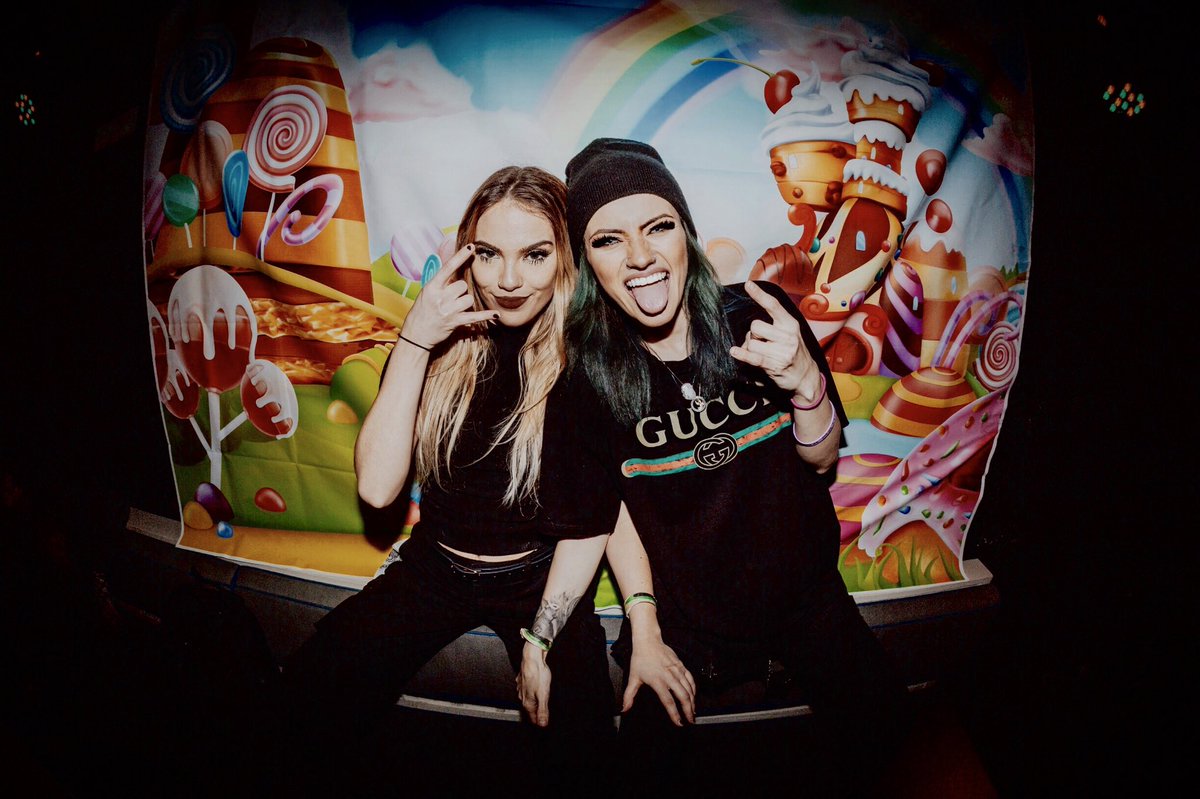 Passion as raw as Zinnia's is hard to come by, and you don't always see it boldly expressed. Her love for music has been nurtured since she was young, and she has the personality to match her eccentric style. Of course, speaking about the past and present is much easier than to, say, talk about your future and your end-goals. We wanted to know just what exactly is Zinnia's greatest dream music-wise? What does she want to achieve? Her answer may just blow you away.
"My end goal as a creator is to create an organization that raises awareness on how crucial musical arts is in a child's development. I grew up wanting to teach for as long as I can remember, I even took courses at the "Advanced Technology Center" that my school district provided for the upperclassmen to have hands on experience in whichever field they were wanting to pursue in college. Mine was teaching & I got to student teach 1st graders for an entire school year!
My love for teaching only grew more, but I quickly read into how corrupt the education system was. I eventually realized there was nothing I could do for the masses of kiddos that were struggling to form to the cookie cutter outline their educators were obligated to provide for them EXCEPT for me to become a politician…& well…pardon my french, but fuck all that.
I was torn on what to go to school for which is why I took a year off before going to college. I decided to pursue my love for music & was going to go to school for business so that I could someday open my own music venue. Well, schooling only caused my love for music to burn out & I came to a point in which I needed to make a decision for myself & what my soul was yearning for me to pursue. I knew right away I needed to listen to my urges to pursue music as a creator & the rest was going to intuitively would fall into place.
I found peace in my pursuits as a producer/dj when I began to volunteer as a mentor at my local Boy's & Girls Club. I was able to create as well as fulfill my dream of being involved with kiddos, ('twas a very symbolic time in my life & the immense self discovery was at it's peak). They showed me how crucial music is in their lives & how important having the tools to create in any form is for them. It blessed me with the epiphany/answer the answer to this question, "what was the most steady/consistent thing in your life as a child?" & that is music. Interest in physical activities such as sports fade & are not promised, but when you think about the music you ran to when life got confusing as a kid, it was always there to give you the guaranteed emotion you found in it.
I never cared about being famous or making sure everyone has heard of "Zinnia" until discovering that my purpose is to use my platform to fund the dream I have to provide kids in third world countries with classes, instruments & the tools to create & learn whatever it is that their soul seems to groove along to! I plan to begin with my local communities & giving back to nonprofits such as B&G Club, & once I am able to have a voice that will reach the ears of likeminded "doers", I hope to find the funds to provide these dreams of mine with everything it needs to come to fruition.
Producing & DJing is seen as a gift from The Universe for following my souls purpose, because this experience is such an epic & fun chapter in my life that its truly seen as a reward for finding what my purpose is so early on…I GET TO RAGE & PARTY WITH SO MANY FRIENDS & GROOVY PEOPLE ALL THE TIME LIKE WHAT THE HECK? HOW COOL IS THAT & HOW BLESSED AM I?….But truly, I am focused on how my existence is still standing because I am meant to help humans evolve as a species, but the immense gratitude I involuntarily carry in this colorful chapter that I get to live in the mean time makes my days of being alive feel like a celebration!!"
Pure, raw, and transparent. Zinnia's trajectory has only been upward this year, and as she continues to amass bookings, you'll start to hear her name more frequently. However, don't think that because she has good intentions that her music does as well. She's thrown it down all over the state of Texas. Make sure to check her socials out below to find what's new with her, and be prepared to catch her live at the
TRILLVO 2nd Annual Women Strong Charity Show!